MODELS 4, 6, 8 Basket Strainers, & Bag Filters
Strainers or Bag Filters for Hydraulic Fluids and Other Oils
Strainer/filter housings are made in many sizes, and all can serve as basket strainers (for particle retention down to 74 micron size) or as bag filters (for particle retention down to 1 micron size). In all cases, coves are easily removed, without tools, and the basket or bag is easily cleaned or replaced.
FEATURES
Large-area, heavy-duty baskets
Low pressure drops
Housings are permanently piped
Covers are O-ring sealed
Carbon steel, or stainless steel (304 or 316) housings
All housings are electropolished to resist adhesion of dirt and scale
Adjustable-height legs, standard on Models 6 and 8; optional extra on Model 4
Easy to clean
Liquid displacers for easier servicing (optional)
These filters meet the more exacting needs of hydraulic and lubricating fluid filtration.
Construction Materials
All housings and other wetted parts not otherwise specified can be ordered in carbon steel, 304 stainless steel, or 316 stainless steel. Four different materials can be ordered for all seals involved. All baskets and mesh linings are made of stainless steel. 304 stainless steel will be supplied with carbon and 304 housings, 316 stainless with 316 housings.
Choose a basket strainer or bag filter
Once the choice between straining a fluid (removing particles down to one 74 micron size) and filtering it (removing particles down to one micron) has been made, the choice of which size Flow Ezy filter model must be made. All three models (4, 6 and 8) and the baskets and bags that go in them, are of the same basic design. They differ in dimensions, capacities, maximum pressure ratings, and pipe size. Selection is based on these variables.
Pressure Drop
Basket strainers and bag filters are usually selected so that the pressure drop does not exceed 2 psi, when they are clean. Higher pressure drops may be tolerated when contaminant loading is low. That pressure drop information is accurate for all housings with strainer or filter bag baskets only. When filter bags are added, the total pressure drop becomes the sum of the existing pressure drop plus the pressure drop through the bag. Consult the factory for the formula to determine the pressure drop for your application.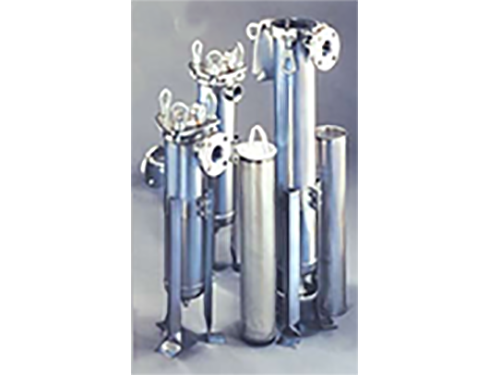 OPERATION
Unfiltered liquid enters the housing above the bag or basket and passes down through them. Solids are contained inside the bag or basket where they're easily and completely removed when the unit is serviced. A hinged basket bail is pushed down by the closed cover, to hold the basket against a positive stop in the housing.It helps prevent bypassing of unfiltered liquid.
Fluid bypass around the basket is prevented by an optional O-ring seal between the basket rim and the housing ID. This seal id required on Model 8 bag filters. Model 4 and 6 bag filters don't need this O-ring because the OD of the filter bag seals against the housing itself, rather than against the ID of the basket rim. A single cover gasket is used to seal the opening, and covers can be installed and removed without tools.
Model
Pipe Size
A
B
C
D
E
F
G
H
J
K
L
M
N
O
P
Q
R
S
T
4-6
3/4
1
1-1/4
1-1/2
2
5.5
5.5
6.0
6.0
6.0
5.2
5.2
5.8
5.8
5.8
3.5
5.0
10.1
10.1
9.4
9.3
9.3
12.0

12.0
3.0
3.0
4.3
4.3
4.3
10.1
10.1
9.5
9.5
9.5
10.4
10.9
10.5
10.8
11.6
4.0
11.2
11.5
11.1
11.3
11.8
1.3
1.5
1.8
2.0
2.3
4.5
1/2
3.5
3.6
14.0
6.8
5.6
4-12
3/4
1
1-1/4
1-1/2
2
5.5
5.5
6.0
6.0
6.0
5.2
5.2
5.8
5.8
5.8
3.5
5.0
16.1
16.1
15.4
15.3
15.3
18.0
3.0
3.0
4.3
4.3
4.3
16.1
16.1
15.5
15.5
15.5
16.4
16.9
16.5
16.8
17.6
4.0
17.2
17.5
17.1
17.3
17.8
1.3
1.5
1.8
2.0
2.3
4.5
1/2
3.5
3.6
14.0
6.8
5.6
6-12
1
1
1-1/4
1-1/2
2
6.1
6.1
6.1
6.1
7.0
N/A
4.3
4.3
4.3
4.3
4.4
6.0
17.3
17.3
17.3
17.2
18.2
19.8
19.8
19.8
19.7
20.7
4.3
4.8
4.8
4.8
6.6
17.3
17.3
17.3
17.3
18.2
18.1
18.4
18.8
19.6
22.0
5.0
5.0
5.0
5.0
4.8
18.6
19.0
19.3
19.7
21.9
1.5
1.8
2.0
2.3
3.1
6.0
3/4
5.0
5.3
18.0
9.5
N/A
6-18
1
1
1-1/4
1-1/2
2
6.1
6.1
6.1
6.1
7.0
N/A
4.3
6.0
23.3
23.3
23.3
23.2
24.2
25.8
25.8
25.8
25.7
26.7
4.3
4.8
4.8
4.8
6.6
23.3
23.3
23.3
23.3
24.2
24.1
24.4
24.8
25.6
28.0
5.0
5.0
5.0
5.0
4.8
24.6
25.0
25.3
25.7
27.9
1.5
1.8
2.0
2.3
3.1
6.0
3/4
5.0
5.3
18.0
9.5
N/A
6-30
1
1
1-1/4
1-1/2
2
5.5
6.0
6.1
6.1
7.0
N/A
4.3
6.0
35.3
35.3
35.3
35.2
36.2
37.8
37.8
37.8
37.7
38.7
4.3
4.8
4.8
4.8
6.6
35.3
35.3
35.3
35.3
36.2
36.1
36.4
36.8
37.6
40.0
5.0
5.0
5.0
5.0
4.8
36.6
37.0
37.3
37.7
39.9
1.5
1.8
2.0
2.3
3.1
6.0
3/4
5.0
5.3
18.0
9.5
N/A
8-15
2
3
4
6.6
7.4
7.4
N/A
5.9
6.8
6.8
7.5
7.5
8.6
20.9
36.7
21.5
23.5
39.6
25.1
4.8
6.6
8.4
21.0
36.9
21.9
23.2
40.5
26.8
3.3
4.8
6.3
23.1
40.9
27.6
2.3
3.1
3.8
8.6
1
5.8
6.3
22.0
12.0
N/A
8-30
2
3
4
6.6
7.4
7.4
N/A
5.9
6.8
6.8
7.5
7.5
8.6
35.9
39.6
40.1
38.5
39.6
25.1
4.8
6.6
8.4
36.0
36.9
36.9
38.2
40.5
41.8
3.3
4.8
6.3
38.1
40.9
42.6
2.3
3.1
3.8
8.6
1
5.8
6.3
22.0
12.0
N/A
ADDITIONAL SIZES AVAILABLE