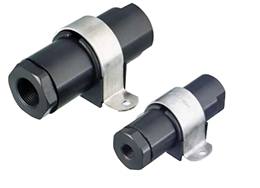 Shown with optional U‑Bracket
REPLACEMENT ELEMENTS 350 PSID
MICRON
RATING
6IL
PART
NO.
15IL
PART
NO.
REINFORCED ΔP ELEMENTS
595
8504-595
8560-595
238
8504
8560
149
8504-01
8560-01
74
8504-02
8560-02
40
8504-04
8560-04
25
8504-05
8560-05
10W
8286-10W
05C
8504-20
8560-20
10C
8504-11
8560-11
1500 and 3000-PSI In-Line Filters
For 238, 149 and 74…
.75 psi (1.5 IN. Hg) pressure drop at 150 SUS viscosity fluid.
6IL rated at 5 GPM (suction). 15IL rated at 15 GPM (suction). These filters can also be used for higher return flows. Here higher pressure drops (to 350 psi) can usually be tolerated and finer micron ratings are possible depending on element pore size and fluid viscosity. Their sturdy machined-aluminum, steel, or stainless steel housings give them the strength to be pressure rated at 1500 or 3000 psi.
These units use pleated elements made from either stainless steel wire cloth or cellulose (paper), with a perforated metal support tube inside. These elements can be easily removed for cleaning or replacement. (They can not be cleaned by backflushing while in the housing.
Select the desired specifications from the ordering table and build an ordering code number, as shown in this sample:
MODEL CODE
61LA
-
03
-
74
-
F3
-
U
STYLE
-
PORTS
-
ELEMENT
-
SEALS
-
BRACKET


omit if not wanted
Style
Ports
Elements†


(Micron)

Seals
Bracket
NPT
SAE
6ILA,
(Aluminum,
1500 psi
6ILS
(Steel,
3000 psi)
61LSS
(Stainless
Steel
3000 psi)
03
(3/8)

04
(1/2)
03S
(3/4-16)
UNF-2B
04S
(7/8-14)
UNF-2B
Stainless wire:
595
238
149
74
40
25
10*


Cellulose:
5C
10C
no symbol
(Buna N)

F3
Viton
U
15ILA
(Aluminum,
1500 psi
15ILS
(Steel,
3000 psi)
15ILSS
(Stainless
Steel,
3000 psi)
06
(3/4)

08
(1)
06S
(1-1/16-12)
(UNF-2B)
08S
(1-5/16-12)
(UNF-2B
†Other element ratings available on request *Available on 6IL only.
6IL & 15IL U-BRACKETS
TO FIT
FLOW EZY NO
6ILA & 6ILS
6ILSS
HCOC26
HCOC26SS
15ILA & 15ILS
15ILSS
HCOC38
HCOC38SS