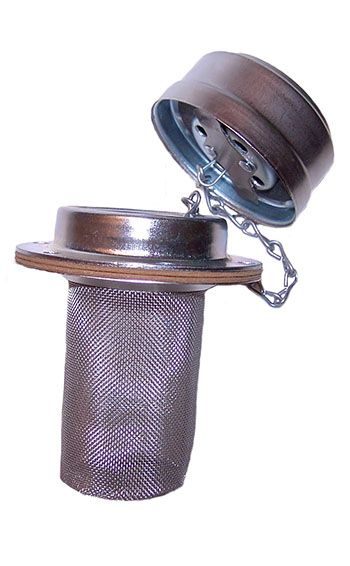 Tank Filler-Breathers
These provide filler ports for hydraulic power unit tanks or other liquid reservoirs. Liquids are strained as they are added to the tank and it lets the tank breathe filtered air.
The 30-mesh filler screen removes dirt and debris from liquids as they enter the systems. The breather cap filters the air, trapping airborne dirt down to 40- or 10-micron levels. It permits air passage at up to 25 scfm. Mounting hardware, gaskets, and templates are supplied.
ACCESSORIES
PERFORATED INNER GUARD: Protects strainer basket against puncture. Four sizes (3", 6", 8" and 13") to match basket depths.
MAGNET AND POST: Attaches to bottom of basket, removes tiny iron particles which can sift through the screen. Impervious to hydraulic fluid. Three sizes (3", 6", and 8").
DIPSTICK: Attaches to cap. Can be marked to order: FULL, ADD, etc. Supplied in lengths (3", 6", 8" and 13"). Eliminates safety chain. If chain is wanted, it must be ordered.
The standard filler cap can be ordered with these modifications:
Padlock adapted. To help prevent tampering, the cap and mount can have welded lugs to allow use of a padlock. Specify "padlock adapted".
Stainless steel. Stainless caps and all-stainless units are available. Specify "stainless cap" or "all stainless" (AB only).